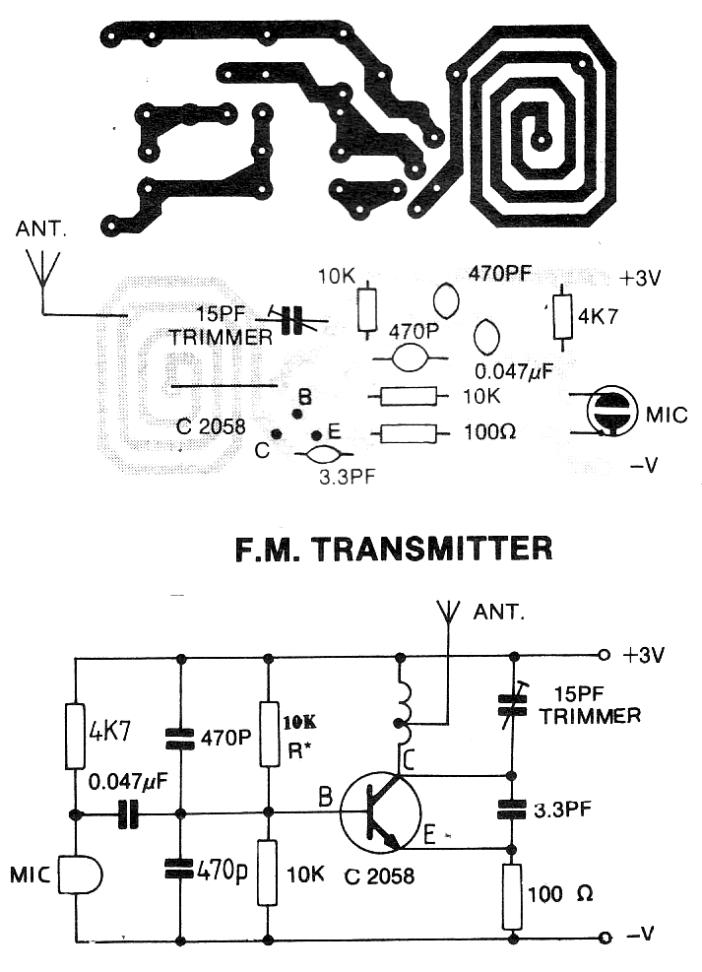 ---




The objective of this 3V FM Transmitter design is to provide a simple low-power transmitter solution for broadcasting audio from various audio sources. This transmitter transmits audio using small sensitive microphone. Transmitter's frequency, as built is tunable via 15pF trimmer to the desired frequency, and the coil is embedded on the circuit board. This implementation is adapted to rebroadcast the output of a CD player, television receiver, or radio receiver. I use this transmitter so that I can move about the house and listen to my favorite programs without disturbing others. Within and the house, I find that I can get 50 to 100 meters away from the transmitter with the small pocket FM receiver I carry in my shirt pocket.

The transmitter as built and pictured below (the transmitter is in the blob of hot melt glue on the end of the battery holder) does not have an on-off switch. I put a two 1.5V AA cells that was run down too far to run my CD player in this transmitter and it ran for over a month before I replaced it. The one in the transmitter at this moment has been running it continuously for over three months. Current draw is only about a milliamp with a new battery (assuming you don't have a super-high beta transistor in which case the theoretical limit is about 2.5 ma). An on-off switch is not necessary, though it may satisfy an emotional need.

Many kinds of transistors will work fine in this application. After all, its only an oscillator (frequency modulation is obtained my modulating the base-collector voltage, thereby modulating the depth of the depletion layer of the reverse-biased base-collector junction, which results in a change in capacitance at the collector, which results in a change the resonant frequency of the collector circuit.). I used an BC549 because I have a lot of them. I like BF199 and MPSH34 for this too.




Related Links

---

Downloads

---

3V FM Transmitter

-

Link




---





Electronics-DIY.com © 2002-2013. All Rights Reserved.