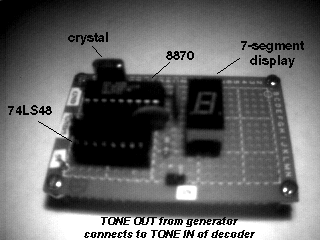 ---




The tone generator (top) uses the 5589 chip and a DIP switch. You can actually hear the tones through the speaker. The bottom circuit uses the 8870 to decode a tone and display its associated number on the 7-segment LED. This tutorial will not discuss telephone interfacing. Rather it will give you a basic working foundation which you can build upon. The generator/decoder above are tethered together by a single wire. But you can expand upon this foundation for wireless remote control using a microphone. For longer distances maybe you can add a pair of walkie-talkies, generating audible tones into one, and decoding with the other. Another possibility is to use infrared (IR). Since tones are just electrical pulses, you can replace the speaker with an IR emitter and add an IR detector to the decoder.




Related Links

---

Downloads

---

Project documentation HEX Program DTMF Generator / Decoder

-

Link




---






Electronics-DIY.com © 2002-2016. All Rights Reserved.