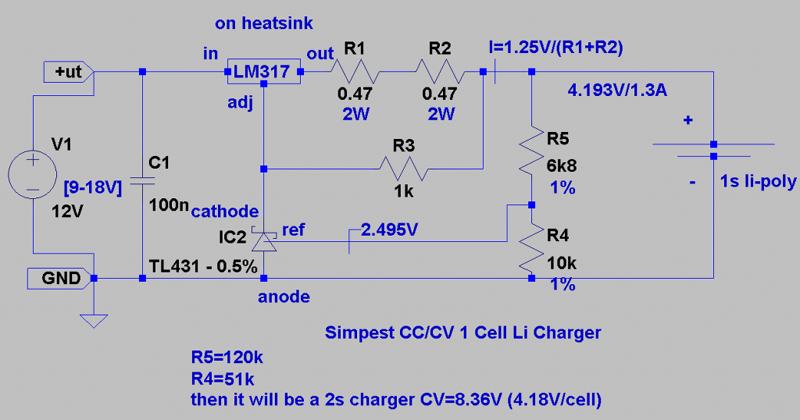 | | |
| --- | --- |
| Simple Lithium-ion / Lipo Battery Charger | |

---




This is a Lithium-ion charger for lipo batteries. Circuit schematic shows configuration for charging single 3.7V lipo battery but voltage can be set to charge several batteries in series. Lipo charger sets a current limit with the LM317, and 1 resistor, and the voltage limit with the TL431, and 2 resistors. 1K resistor is needed to let the TL431 decrease the LM317 current, and to provide the necessary current to the TL431. The optional Schottky diode at the output will prevent current flowing back from battery to the charger circuit when power is disconnected, and reverse biasing of the LM317. Power supply with more than 3V above output voltage is required.

This is a CC/CV charger, this means in CC mode, it can generate 1.3A, and when the voltage reaches CV voltage, it decreases current.

Parts:
1x LM317
1x TL431 - 0.5%
1x 6K8 1% resistor
1x 10K 1% resistor
1x 1K resistor
1x current sensing resistor, for this 1.3A current, 2 x 0.47R 3W was used in series




Related Links

---

Downloads

---

Simple Lithium-ion / Lipo Battery Charger

-

Link




---






Electronics-DIY.com © 2002-2016. All Rights Reserved.