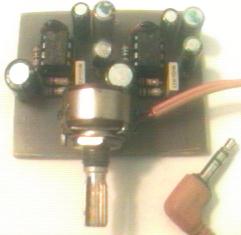 | | |
| --- | --- |
| General Purpose 2 Watt Stereo Power Amplifier | |

---




A general purpose audio power amplifier is a must have for the electronics amateur. It's not a good thing to use your HiFi set for an experiment, when there's a risk of blowing it's transistor out. Amplifier for your experiments should be simple in construction, durable, and easy to repair. Also a portable, low power consumption and battery powered. Taking the considerations above, I gave you the PCB design for the TBA820M based amplifier. It is rated for 2Watts of RMS power output (16W PMPO) but gives even two times more if you cool it well by some tricks. I've been using this circuit for over ten years and personally still surprised by it's durability, thinking of how many short circuits and overdrives it is subjected.

I did not know if TBA820M is still manufactured (my IC's are made by SGS-Thomson), so it may be obsolete in your country and hard to find. But if you find it in a local electronics shop, purchase a dozen, they will worth it. A simplified, scaled down version of this circuit may be used anywhere, where a power amplifier is needed.

Technical data:

Supply voltage : 3 to 16 Volts
Load impedance : 4 TO 16 Ohms
Power output : 2 Watts RMS
Gain : 40 dB (x100)

Here is the PCB design for two channels on it. I tried to make it as small as possible but volume control potentiometer took a lot of space. In a special design, area it's occupied may be omitted. Also usage of high quality small sized capacitors may help you to reduce the circuit size further. You may download this PCB design as a TIFF file which is prepared to be printed at 300DPI. You may refer to my PCB Design Page for more details on how to create your own PCB's.

PCB for the power amplifier
PCB design for 2 x 2Watts power amplifier

After the etching process of the PCB, solder all of the components on. Please use IC sockets in order to be able to change TBA820M's if you blow them out somehow. Here is a photo of the completed circuit, ready to serve for years.




Related Links

---

Downloads

---

General Purpose 2 Watt Stereo Power Amplifier

-

Link




---





Electronics-DIY.com © 2002-2013. All Rights Reserved.