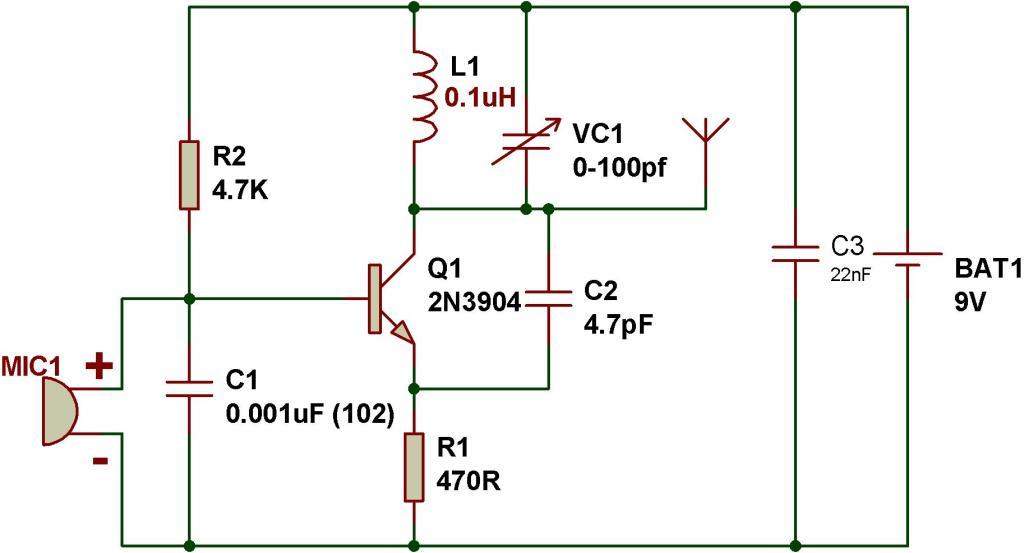 | | |
| --- | --- |
| How to Make FM Transmitter | |

---




This tutorial is for making simplest FM transmitter using only one transistor. VC1 is a small, screw-adjustable, trimmer capacitor and its rating should be around 10-100pF. Set your FM receiver for a clear, blank station. Then, with a non-conductive tool, adjust the capacitor for the clearest reception, rotate it till the receiver receives a sound from the microphone of transmitter. Use the following formula for determining the frequency.

The schematic of FM transmitter is given above.

The following shows the components used to make FM transmitter.

Transistor 2N3904
Capacitors 4.7pF, 20pF, 0.001uF, 22nF.
0.001uF has code 102 and 22nF has code 223.
For VC1 you can use a trimmer capacitor that looks like this:
Resistors 4.7K, 470R
Condenser Electret Microphone
Inductor 0.1uF 6-7 turns using 26SWG wire.

Learning how to make an inductor for FM transmitter.
You need to scrap the ends of inductor, otherwise, the inductor does not work. Check the video given below to know how to make an inductor. Or you can use commercial 0.1uH inductor.

Assembly:
Insert transistor, resistors and capacitors on breadboard. You can see the values of the components on the previous picture.
Then insert electret microphone.
Use 15cm long antenna. You can use a normal wire for antenna.




Related Links

---

Downloads

---

How to Make FM Transmitter

-

Link




---






Electronics-DIY.com © 2002-2016. All Rights Reserved.