| | |
| --- | --- |
| KT88 Tube Power Amplifier Class A | |
---
Single Ended Valve Triode Amplifier has not same tone with Push Psu Amplifier. Over 90% of Amplifiers are push pull, and push pull amplifier does not 2nd harmonic and off course does not get 2nd 4th, 6th harmonic vs SE has 2nd, 4th, 6th harmonic. Push pull has minor distortion than SE Amplifier.2nd harmonic is make good tone for Music.not too much and not less than.feel good sound get from Single Ended Amplifiers with high efficiency speakers from 88dB/m to 100dB/m. I means Single Ended Amplifier is almost Single Ended Triode Amplifier.or Penthode but wired Triode. Tone is Different.good for Jazz and small room Classic.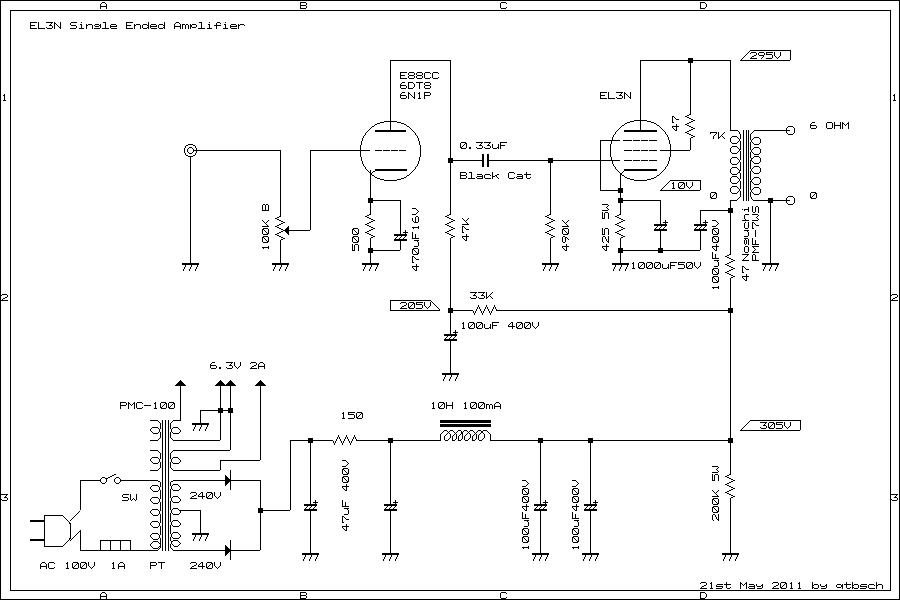 Single Ended Amplifier is use only Class A

To enjoy any music if you have good speaker system and C/P is good than 300B SE,valve are low
cost than 300B's.but speaker system need at least 91dB/m/w.and wide range speaker like B&W, Klipschetc.

KT88 and 6550 are almost same charactor so you can use each other same amplifier.
but some bias adj.KT88 are not same sound getting if Maker is different.please try it's.
Any Penthodo grid bias are less than Triodo's bias so please try to use any kind of driver.
which is SRPP, one tube triode like 12AX7(ECC83),6DJ8, one of the penthodo drive by EF86,6SH7,any .
impedance are 3.5K ohm if using high voltage for plate voltages.cathode resistance are
around 390 ohm 10W ~ 20W.just try to drive any kind of driver by UL and wired Triodo.

The Real Audiophile does not care about small power when one is using
Single Ended Amplifier.
2nd harmonic makes different tone,depend on how fixed driver valve.(PP does not have 2nd Harmonic.)
Power of Single Ended Amplifier
is depend on capacity of Audio Out Put Transformer and Power supply.

If do you have a good efficient speakers( like a over 91dB/m/w),you may use a 2A3SE(6B4G).
and 2A3 SE is most good amplifier than any kind of Hi End Amplifier .I live small
apartment so good enough to use 2A3 SE with Tango XE-20S Transformer.but lets me show
you KT88/6550/EL34/KT77/ Compatible Single Ended Amplifier.twice of power of 2A3 SE.
I guess depend on 6550's plate current made up good sound than 300B SE.300B SE is
get good sound but depend on output transformer and plate voltages.many 300B SE does't
get "real 300B tone's" even power does't reach 8W rms and frequency response are narrow.
Let's buildding up 6550/KT88 SE Amplifier D.I.Y

Important:
One of famouse Valve Amplifier MFG.Spec said 300B Single Ended Amplifier has 8W rms so on
but real is 6.5 W rms.useable power is 6 W rms.you must know.
other way 2A3 SE with Tango,Tamura Transformer.can get easly 5 W rms power.valve cost es a
half of 300B Russia,China.which is good for you.
Audio Transformer:
Valve Amplifier is ,depend on quality of audio transformer.
which is better for Valve Amplifier ? Japanese Transformer are best for use.
Tango and Tamura ,and Hashimoto(Sansui) are best. I prefer to use ISO Tango for
reasonble charactor and price.Tamura is very best but many Tamura Transformer are
super expensive.Hashimoto are good too and reasonable price.
I do not recomend use James because quality is not high.even they said ,Japanese
Iron using but charactor is not so good.Inter stage Transformer is Tamura and ISO Tamgo
and Hashimoto. recently many DiYer using Lundahl Transformers for impedance matching
transformer and interstage transformer.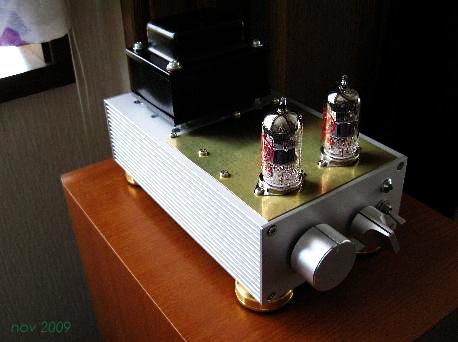 Related Links
---
Downloads
---
KT88 Tube Power Amplifier Class A
-
Link
---