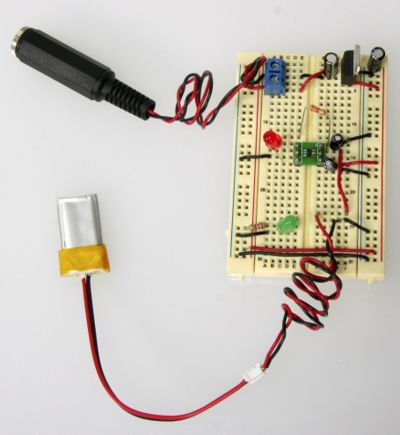 ---




This is LiPo battery charger circuit based around the MAX1551 / MAX1555 chip from Maxim ICs. And it happens to be a very easy chip to use. I used the typical circuit from the datasheet and referred to the pin out to see which pin is what. I also used adapter board so that I could prototype the LiPo battery charger on a breadboard. The barrel plug towards the top goes into an LM7805 that can take 7-16V and regulates it down to 5V. Besides that, pretty simply stuff with only a handful of common components.

The MAX1551 and MAX1555 charge a single-cell lithium-ion (Li+) battery from both USB and AC adapter sources. They operate with no external FETs or diodes, and accept operating input voltages up to 7V.

On-chip thermal limiting simplifies PC board layout and allows optimum charging rate without the thermal limits imposed by worst-case battery and input voltage. When the MAX1551 and MAX1555 thermal limits are reached, the chargers do not shut down, but progressively reduce charging current.

The MAX1551 includes an active-low POK output to indicate when input power is present. If either charging source is active, active-low POK goes low. The MAX1555 instead features a active-low CHG output to indicate charging status.

With USB connected, but without DC power, charge current is set to 100mA (max). This allows charging from both powered and unpowered USB hubs with no port communication required. When DC power is connected, charging current is set at 280mA (typ). No input-blocking diodes are required to prevent battery drain.

The MAX1551 and MAX1555 are available in 5-pin thin SOT23 packages and operate over a -40°C to +85°C range.

Key Features

Charge from USB or AC Adapter
Automatic Switchover when AC Adapter is Plugged In
On-Chip Thermal Limiting Simplifies Board Design
Charge Status Indicator
5-Pin Thin SOT23 Package


Applications/Uses
Cell Phones
Digital Cameras
PDAs
Wireless Appliances




Related Links

---

Downloads

---

LiPo Battery Charger

-

Link




---






Electronics-DIY.com © 2002-2016. All Rights Reserved.