BA1404 Stereo FM Transmitter with Booster
Build your own fairly simple high quality stereo FM transmitter circuit as shown in the photo. The circuit is based on the BA1404 chip from ROHM Semiconductors and S9018 amplifier for extending tansmitter's range. BA1404 is a monolithic FM stereo modulator that has built in stereo modulator, FM modulator, RF amplifier circuits. The FM modulator can be operated from 76 to 108MHz and the power supply for the circuit can be anything between 6 to 12 volts.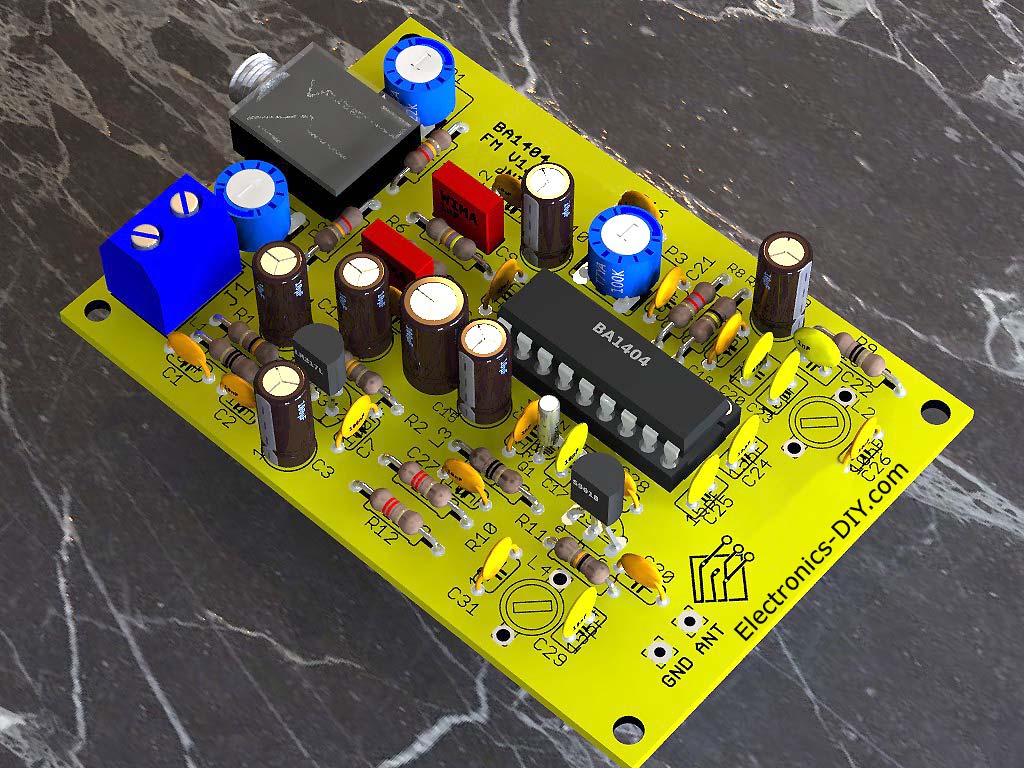 BA1404 Transmitter with UPC1651RF Amplifier
BA1404 transmitter includes onboard RF amplifier for increased transmitting range. Operating voltage range is 1-3V, the circuit contains FM stereo mixer, 38KHZ oscillator, FM modulator and high-frequency amplifier monolithic integrated circuit. As the "electronic newspaper" BBS there are many users requiring detailed information on the FM stereo transmitter, so I re-collect the relevant information on the simple discrete, merge, integrated FM stereo transmitter experiment, that BA1404 with μpc1651 mix of the most easy to make and debug, and very high frequency stability (relative to the previous circuit BA1404), transmission power is increased by UPC1651RF amplifier.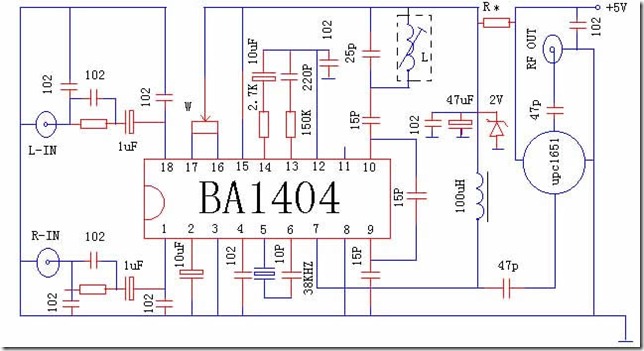 BandPass Filter
This bandpass filter is in fact a combined high- and lowpassfilter. The first stages are a highpass (f>70MHz) and the last stages a low pass (f<180MHz). The lost of this filter is several watts when driven with 20[Watts], but the output signal is (when adjusted with a spectrum analyser) very clean.
Basic FM Transmitter
This basic RF oscillator circuit is easy to build and the components are not critical. Most of them can be found in your junk parts box. The circuit operated with 9V DC power supply. The L1 antenna coil can be made by close winding 8 to 10 turns of 22 gauge insulted magnetic wire around 1/4 inch form such as a pencil. You can experiment with the size of the coil and the number of turns to see how it affects the frequency and signal output of the oscillator. You should be able to pick up its signal with standard FM radio receiver. Signal In to any audio player through 0.1uF capacitor.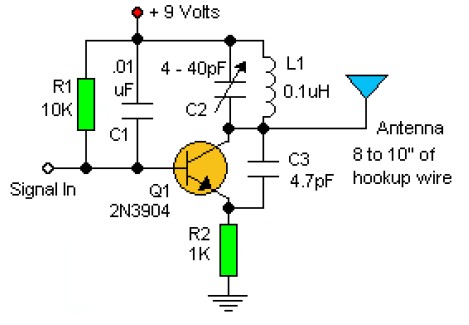 Bench Lab Power Supply 0-50V 0-5A
Every laboratory needs a few critical devices, the most important of which is a power supply for powering the projects. But as demand grows and the projects get bigger a professional and adjustable power supply becomes a necessity. Here is an adjustable 50V/5A power supply with a variable output from 0V to 50V and adjustable current limiting from 0A to 5A. Most simple power supplies cant get the output to come down to exactly 0V or 0A. But in this circuit, the differential amplifiers have a negative power supply rail at (-3V), which can pull the output down to exactly zero.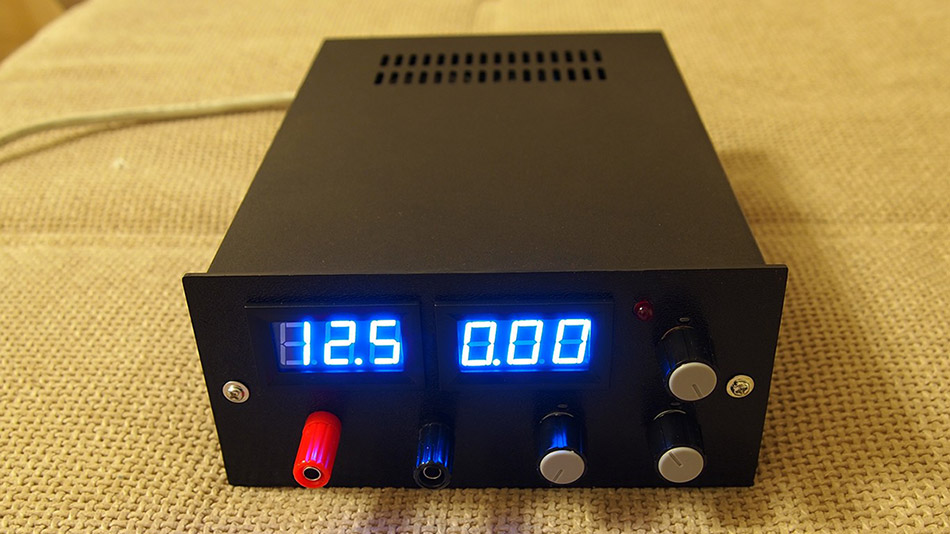 BF494 Micro FM Transmitter
That small circuit transmitter it is ideal for ready espionage for strip from radio Fm or receiver of VHF. Of course the recreational purpose also exists and the children will adore to have a transmitter that allows to speak for a radio FM placed at distant place and like this pretend the secret agent.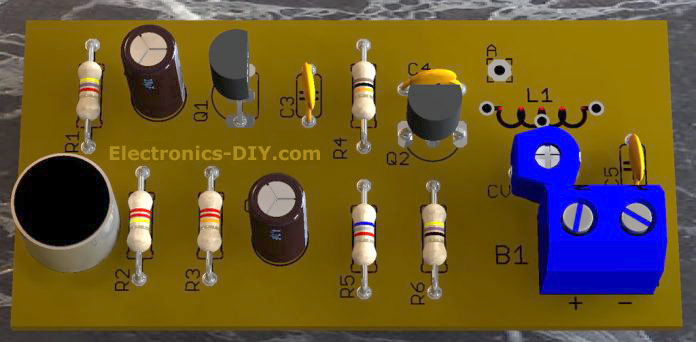 BH1415F FM Stereo PLL Transmitter
Transmitter power amplifier, the output signal from BH1415F by 2 SC9018, 2SC3355, 2SC2053 amplified signal can reach more than 500 mW, adjusting well to achieve greater power. Measured by the pull rod antenna used to be launched in the open 800 meters above. Uses external antenna will be launched even further. attention in 2053 need to be installed and tested at the load connected to leave, or else very easily burn 2053, 50 European amateur production of 2 W can be used instead of resistance. installed and tested at three levels circuit can be installed and tested.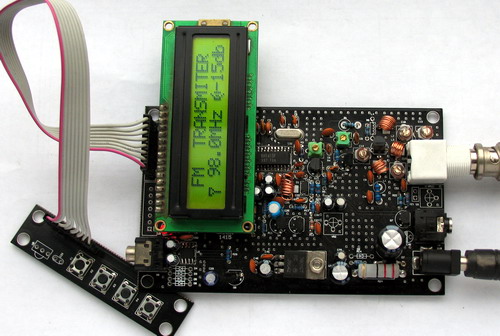 BH1415F FM Stereo PLL Transmitter
This is FM PLL Stereo based BH1415F IC from Rohm, it's has built in PLL and Stereo Encoder. You can download the schematic, pcb layout and Hex code. The transmitter menu display with LCD, and this have step 100Khz, 200Khz,.....1000Khz and have Mode menu (stereo/mono). In Action, LCD Display can solder directly on the bottom.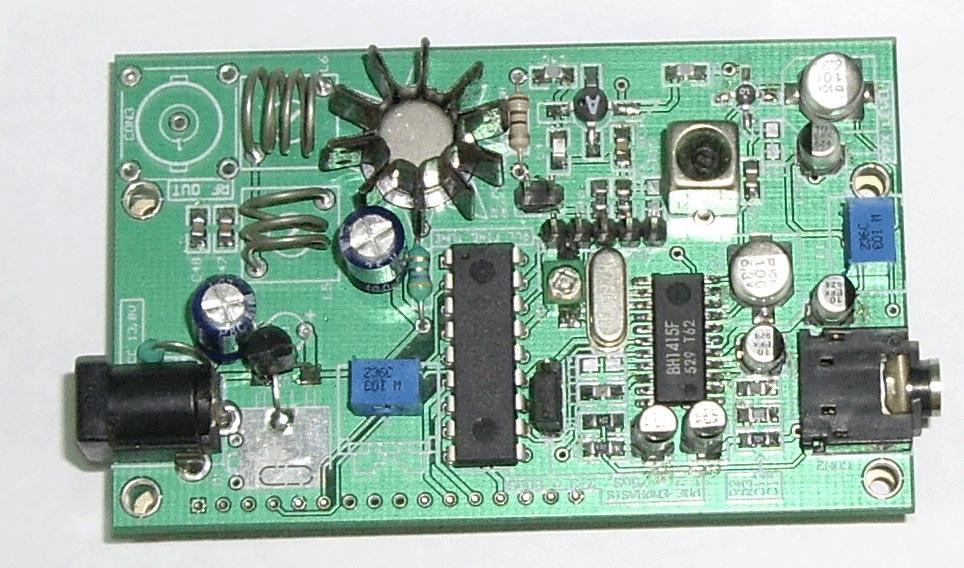 BH1417 USB FM Transmitter
Here's BH1417 USB FM Transmitter with built-in PLL circuit. Its low-frequency signal is converted into high-frequency, which can take any audio device with FM radio (stereo, car CD, MP3, DVD player, etc.), as a normal radio station. Transmitter power is sufficient for reliable reception of its signal within a few tens of meters. The basis of the device is a chip BH1417F, included in a typical scheme. This device contains all the necessary circuitry to generate a composite stereo signal c of the pilot tone, the RF generator with PLL and power amplifier. A detailed description is given in.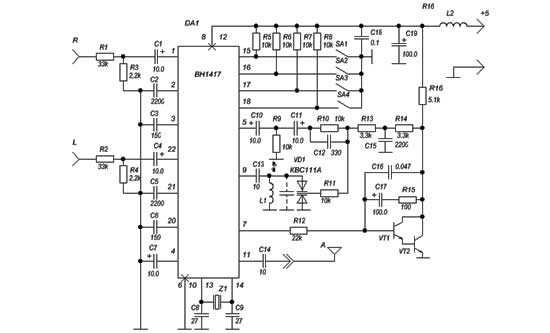 BLF147 150W VHF Amplifier
One of the very latest developments here is 150W VHF transmitter amplifier with BLF147 power transistor. Results are very impressive with well over 150W across the band with 10W input and 24 VDC supply. Over 200W is achieved at 28 VDC, and over 250W with a hot bias 4-5A quiescent. PCB is teflon glass board with printed transmission lines and porcelain caps. No external harmonic filter is needed, as the filtering is built into the matching network.