BA1404 HI-FI Stereo FM Transmitter
The above FM transmitter design is a result of many hours of testing and tweaking. The goal was simple; to test many existing BA1404 transmitter designs, compare their performance, identify weaknesses and come up with a new BA1404 transmitter design that improves sound quality, has very good frequency stability, maximizes transmitter's range, and is fairly simple for everyone to build. We are happy to announce that this goal and expectations have been met and even exceeded.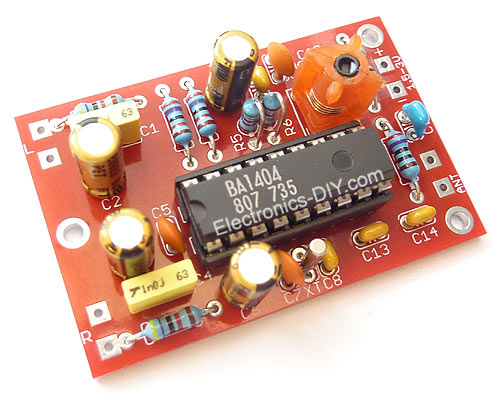 BH1417 PLL Stereo Transmitter
This is the latest BH1417 FM Transmitter design from RHOM that includes a lot of features in one small package. It comes with pre-emphasis, limiter, stereo encoder, low pass filter, PLL rock solid frequency transmission and RF output buffer.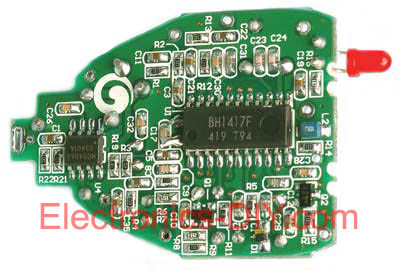 Phone FM Transmitter
This Phone FM transmitter connects in series to your telephone line and transmits the telephone conversation over the FM band when you pick up the telephone handset. Transmitted signal can be tuned by any FM receiver. The circuit includes an "On Air" LED indicator and also provides a switch which can be used to turn off the transmitter. A unique feature of the circuit is that no battery is needed to operate the circuit since power is taken from the telephone line.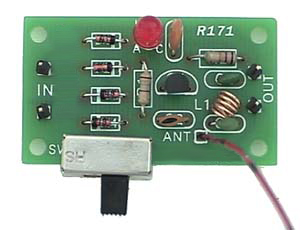 Single Chip FM Transmitter
Simple to build once chip FM Transmitter that requires only 3 - 5V to operate. This transmitter links your home-entertainment system to a portable radio that can be carried around the house and into the back yard. For example, you can play music on the CD changer in your living room, and listen to it on a portable radio by the back-yard barbecue.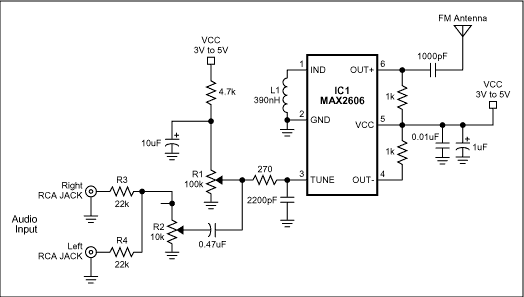 TX200 High Quality 200mW FM Transmitter
Here is the latest and greatly improved TX200 VFO/VCO FM transmitter. The most versatile transmitter to date that can be turned into high fidelity stereo PLL based 200mW FM transmitter. It is a perfect circuit for transmitting your music around the house and yard.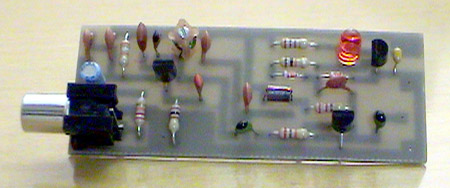 TX300 300mW FM Transmitter
Here it is a brand new TX300 FM transmitter. The amplifier has exactly the same architecture as TX500 with the difference that TX300 has only one stage variable VHF amplifier.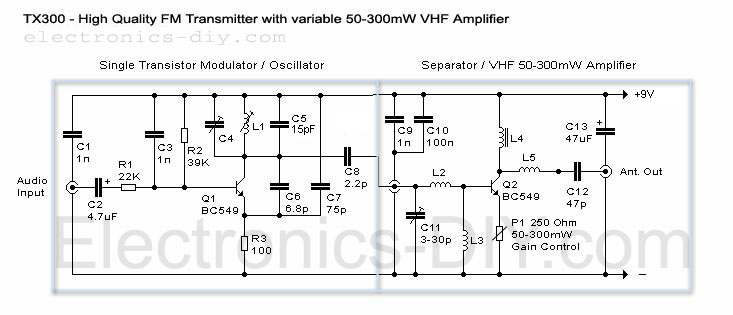 TX500 - 500mW FM Transmitter
The TX500 is a simple to build 500mW FM Transmitter. It consists of three blocks; modulator / oscillator, two stage 500mW VHF amplifier and LED based power meter. The TX500 allows to transmit audio signals to FM band at frequencies from 88 MHz to 108 MHz. Due to the very low power consumption of less than 100mA the circuit may be perfectly powered by using 9-12V battery or power supply if you prefer. The circuit has been divided into separate stages so that it is be better for everyone to understand how every part works independently.

0-500MHz PIC16F876 RF Power Meter
RF Measurement has been an expensive work so far the cost of measuring instruments are concerned. RF Meter is based on PIC16F876 microcontroller, AD8307 and 2x20 LCD display. Full documentation is included.
0.1 - 3.5GHz Prescaler
This handy prescaler divides input frequency by 1000. It takes maximum input frequency of 3.5GHz and converts it into 3.5MHz that may be measured using standard frequency meter.

1 Watt FM Amplifier
This is 1 Watt FM amplifier with a good design that can be used to amplify RF signal of low power FM Transmitters in the 88 – 108 MHz band. It is very sensitive if you use good RF power amplifier transistors, trimmers and coils. It has a power amplification factor of 9 to 12 dB (9 to 15 times). At an input power of 0.1W the output will be 1W. You must choose T1 depending on applied voltage. If you have a 12V power supply then use transistors like: 2N4427, KT920A, KT934A, KT904, BLX65, 2SC1970, BLY87. At 18 to 24V power supply you must use transistors like: 2N3866, 2N3553, KT922A, BLY91, BLX92A. You may use 2N2219 at 12V but you will get maximum output power of 0.4W.