Simple MP3 FM Transmitter
A simple MP3 FM transmitter circuit shown here can be built easily in few minutes if all parts are available to you. All the components used in this transmitter circuit are general purpose and low cost. The circuit will work as a best FM transmitter for simply broadcasting your music around your house and yard, and can be used to broadcast the output of any equipment like mp3 player, ipod, satellite, etc.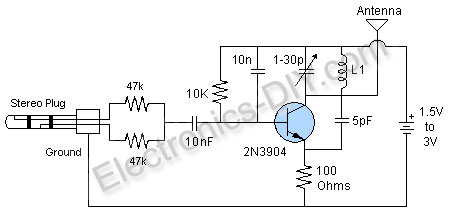 Simple RF Power Meter
Here is a simple set up which will enable them to measure the out put power of their transmitter. All that they require is a good multimeter which has a sensitivity of 20k ohms/4 Watts which is adequate for low power transmitters. Many beginners trying out their skill with QRP TX, for the first time have to overcome many problems before they are able to come on the air. On usual complaint is that, every thing is working fine but the signal is not going out.


Simple Stereo FM Transmitter using an AVR Microcontroller
I had been fascinated with the idea of making simple stereo encoder for building Stereo FM Transmitter. Not that stereo means much to me away from the computer. I use an FM broadcast transmitter to relay the output of my computers to FM radios in the kitchen, the bedroom, the driveway, and out in the garden. Under those circumstances, I find that mono is plenty, whether it is music or radio programs from over the internet, since I am primarily occupied with something else anyway. When on my hands and knees in the garden, all the way up to my elbows in planting a bush, the music really does not seem any more sweet when its stereo. But that did not stop me from being fascinated with the idea of making a stereo encoder. Stereo always seemed like a lot of circuitry and bother for the slight benefit that came with it. That is, until a few weeks ago.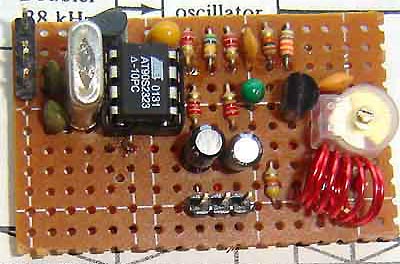 Simplest FM Transmitter
This simple FM Transmitter takes audio input through a 1/4" phono jack and, constructed as shown, without the optional antenna connections, will broadcast an FM radio signal about 30 feet. This is the standard model of simplest FM transmitters includes a trim capacitor to adjust the transmitting frequency. It can be powered by a 9V battery and uses a hand-turned copper coil. The circuit is extraordinarily simple and could be built on perfboard or on a panel almost as easily.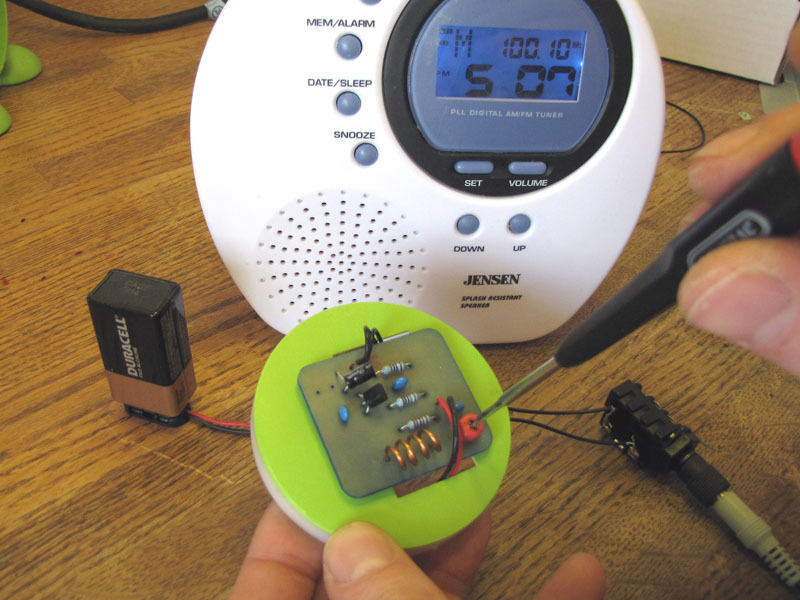 Single Transistor VCO FM Transmitter
This simple transmitter allows you to broadcast on FM radio band 87.5 - 108 MHz. It consists of a simple oscillator with silicon planar RF PNP transistor. Directly to the oscillator an antenna is connected. Due to the large amplitude of RF voltage is sufficient antenna length of about 5-10 cm. I used insulated 7cm long copper wire 1mm diameter. I eliminated the tuning capacitor, which is usual for most bugs and miniature transmitters, because this greatly complicates the tuning. From my own experience I know that if you get closer to such capacitor, the operating frequency is changed. That's why I chose to use the voltage tuning using the Voltage Controlled Oscillator (VCO). Instead of tuning capacitor the varicap (capacitance diode) is used, which changes its capacity by changing the reverse DC voltage. We can tune the operating frequency by changing the DC voltage using the trimmer P1. Varicap also provides frequency modulation.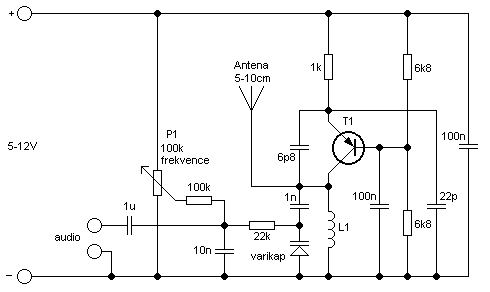 Small AM Transmitter
So, I needed a small transmitter, which would allow me to transmit good, old music into my AM-only radios. So, one saturday afternoon I got into gear, designed and built a very crude, terribly non-optimized little transmitter. It's almost a joke expressed in electronics, full of poor design, so please don't think that this is the best I can do! You must see it as a quick and dirty 5-hour effort, because that's all the time the transmitter took to design, build, and test. Making this web page about it is taking much longer! I'm putting this thing on the web only because many people have asked me to do so, despite its crude design!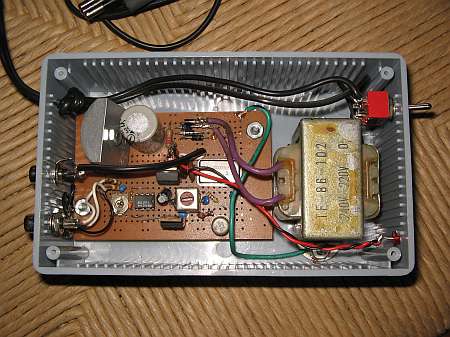 Solar Powered Long Range FM Transmitter
There are many miniature FM transmitter bug circuits online, this one is unique in that it runs completely on solar power. No battery is required. As long as the sun is shining on the PV panel, the transmitter will transmit. The transmitter bug is useful as a "remote ear", and can be used for anything from listening birds to surveillance work. The mic preamp and oscillator circuits were borrowed from a common circuit found around the Internet, a regulated solar power supply and an RF amp that extends the range of transmitter and improves frequency stability were added.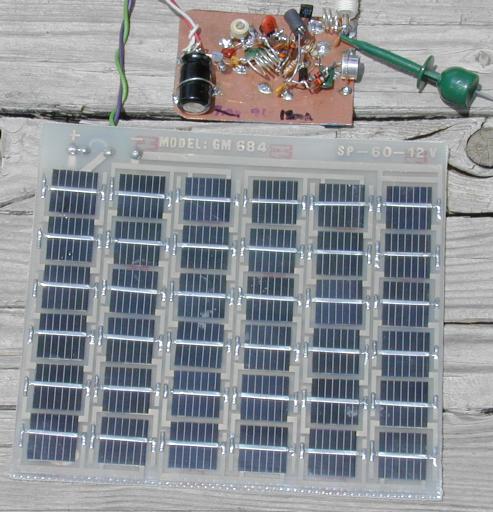 Spy Bug FM Transmitter
This tiny 88-108Mhz FM transmitter bug measures just 10mm x 17mm in size and as you can see in the photos the biggest components are just the microphone and the battery. You can use a small microphone from an older cell phones, they are small in size and have an excellent sensitivity. For an effective power supply the 9V battery (Duracell) is excellent and allows several hours of battery life, but if you want to have a smaller size it is better to use 2 or 3 lithium cells like the 2032 used in PCs. The circuit works well from 3 to 12V, the maximum range is obtained with 12V and a piece of 40-60cm cable as an antenna.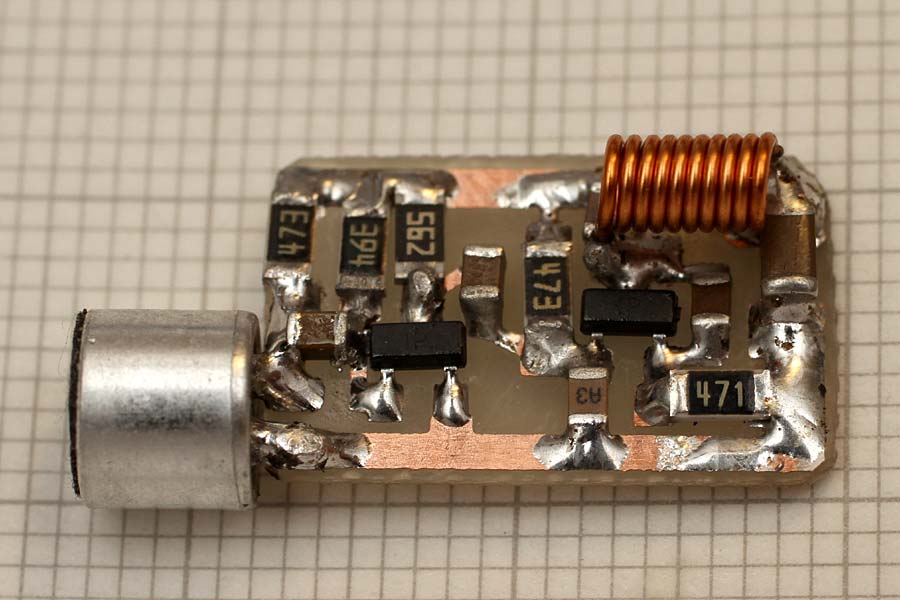 Spy FM Transmitter Bug
Here's a tiny one transistor spy FM transmitter bug that operates from a single 1.5V AA battery. Main advantage of this circuit is that power supply is a 1.5 Volts cell (any size) which makes it possible to fix PCB and the battery into very tight places. Transmitter even runs with standard NiCd rechargeable cells, for example a 750mAh AA size battery runs it about 500 hours (while it draws 1.4mA at 1.24V) which equals to 20 days. This way circuit especially valuable in amateur spy operations. Mini FM transmitters take place as one of the standard circuit types in an amateur electronics fan's beginning steps. When done right, they provide very clear wireless sound transmission through an ordinary FM radio over a remarkable distance. I've seen lots of designs through the years, some of them were so simple, some of them were powerful, some of them were hard to build etc.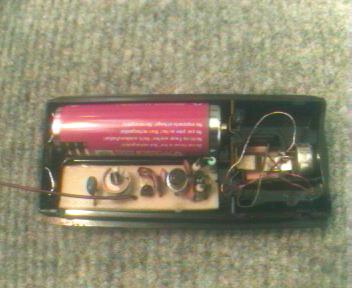 Stable FM Transmitter
FM transmitter circuit projects are indeed quite popular among electronics hobbyists / students. But the frustrating part is most transmitters refuses to work at all, and secondly the internet is full of crappy transmitter circuits. Designing a stable FM transmitter circuit is rather a difficult job, many calculations are involved their. There are also some construction error and component value tolerance. Here you can find a reasonably stable and well tested transmitter that actually works.